8 Tips on how to care for jewellery.
Keep away from water

The jewellery is a product, that highlights the beauty of the person who wears it. This tiny trifle which makes us feel extraordinary needs a special treatment. To prolong the beauty of the silver, there are several rules of caring for it and wearing it that should be followed. First of all, we should try to keep away our jewellery from the tap water, as well as a lake or sea water. Macro and micro elements contained in the water can adversely affect the condition of the jewellery. With the regular contact with water, the jewellery looses their shine, and also it can gradually decolourize. This applies especially to jewellery made of natural pearls and pearl mass, that is very vulnerable. It should be kept in mind, to take off jewellery before taking shower and washing dishes.
Avoid contact with chemicals and perfumes

Detergents used for cleaning dishes or laundry affect the surface of the jewellery. It also applies to hair & body cosmetics, perfumes and deodorants. The ingredients of chemicals are usually the cause of discolouration of jewellery, or the skin in place in which, it contacts with the jewellery. Often the jewellery is not made of pure precious metals but their alloys, which unfortunately may react with other chemical substances. Furthermore, detergents and cosmetics might cause tarnishing of zircons, as well as natural and lab created gems.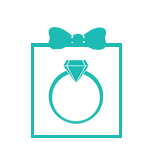 Proper storage is essential

The thing about which we should remember is proper storage of the jewellery. In care of jewellery products, important is not only how we wear it, but how we care when it is not used as well. Each element should be rightly protected from contact with other elements, not to expose it to damage, scratching or dust. It can be kept in a soft piece of fabric, but we rather suggest maintaining the jewellery in special casket designed for it. The best of them are made of wood or metal, with thoroughly protected interior by the high-quality material of a delicate texture. It is good to pay attention, if jewellery box that has been chosen, has many pockets, and whether it's fabric protects the jewellery from rigid parts of the casket. It is recommended to give your jewellery to professional care from time to time. The caskets can be bought in a jewellery shop or on the Internet.­­­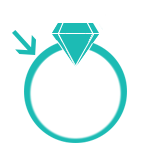 Delicate beauty needs special treatment

The advantage of the jewellery made of 925 silver is the fact that it contains up to 92,5% of silver in the metal alloy. This is common and frequently available fineness of silver used to produce jewellery. 925 silver is a very plastic material, so it is good to know, that the jewellery may become deformed, so we advice to wear it only for special occasions. This is not the jewellery meant to be worn every day. Most jewellery available on the market is made of this 925 alloy of silver. The most products are very tiny and delicate, often with lots of zircons. Such a jewellery requires special precaution while wearing it. Particular care should be taken in case of thin rings and necklaces.
Protect against breaking

While wearing thin and delicate chains and necklaces as well as when putting on and taking off clothes, be extremally careful, not to break them. Watch out when playing with children as well as when brushing your hair, because when the chain or necklace are hooked up to something they can easily be broken. Thus, we advise to take off the jewellery before sleeping. The chain should be properly protected, but you should avoid bending or bundle it too tight to not to cause permanent deformation or fracture. 
Wear it like a princess

Gems and pearls, and first of all zircons use to produce jewellery are prone to cracking, and loss, which frequently occurs as a consequence of a random event. Therefore do not wear your jewellery when doing household chores or while playing with kids, pets or during any sports activity.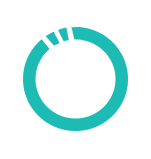 Jewellery coatings

Remember that the most impermanent element of jewellery, exposed on damages is the external surface. The technologies of finishing jewellery such as gold plating or rhodium plating comprise coating the jewellery with a very thin layer of gold or rhodium, which during wearing it, is a subject of gradual abrasion. Abrasion applies also to satin jewellery, diamond cut finish and patinated jewellery. The abrasion depends on the way of wearing it and store. To slow the process of abrasion and protect jewellery from damages, several rules are needed to be followed:
It is not advised to wear delicate, plated jewellery with thick sweaters made of stiff materials such as wool.

Take off the jewellery before using hair sprays.

In case of applying body lotions, creams or body oils, before putting on jewellery wait until the cosmetic is completely absorbed.
There are people whose sweat has acidic ph, so it contacts with the jewellery may cause discolouration or faster the abrasion of the coating. Colour change is not a hidden defect of the jewellery, as well as the abrasion of the coating which is why they cannot be the subject of a complaint.
 Restore the shine
To maintain longer the shine and beauty of the jewellery it is advised to store it properly and appropriate care. Both gold and silver jewellery oxidise gradually, which causes that silver turns darker and gold loses its shine. The jewellery that was not worn for a long time and improperly stored usually is covered by a layer of dust and bacteria. The best way to get rid of them is to clean the jewellery with a special cloth. Using it frequently jewellery will keep their shine for longer. To clean plain silver jewellery without coating, the Argentum liquid can be used. See the instruction before using it. It is not advised to use it too often for plated jewellery, it speeds up the process of abrasion. The jewellery that is very dirty is better to give to a professional care, what surely restore their shine.
Jewellery cloth is available in our e-shop -> see prices.  
While choosing the cleaner, be sure to check the parameters of the jewellery and their characteristics.
How to choose the right jewellery for you?  
Recommended