Safe payments
All the following payment methods are protected by an SSL certificate, guaranteeing the security of transactional data.
Your purchase can be insured for up to 10 000,00 PLN using the Trusted Shops Guarantee.
Credit Cards

The booking of payments for credit cards is immediate. Also, your orders are processed faster and you can take advantage of no-interest deferred payment deadline up to 60 days.
E-transfers and online bank payments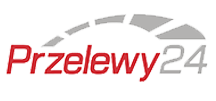 Electronic payments enable to pay order directly from your bank without filling the bank transfer form. The booking of payments for electronic payments is immediate which guarantees the fastest order processing!
* Blik is available only for orders in PLN currency.
* At the moment Google Pay payment is available only via Przelewy24.pl.
Installments
Hire purchase system mBank installments is processed by Przelewy24 payment system.
* Hire purchase system mBank installments is available only for PLN currency and for minimum order value of 300,00 PLN.
Bank transfer

We book bank transfers twice a day, around 9:00 and 12:00 o'clock.
International bank transfers - the customer always pays transfers costs. For payments in a currency other than PLN we recommend credit cards or wire transfer payments.
Important!
Before making the payment via a bank transfer, the customer is obliged to validate the bank account number corresponding to the appropriate settlement currency. Sentiell shall not be responsible for the currency conversion resulting from choosing the wrong bank account corresponding to a specific settlement currency. The costs of currency conversion shall be covered by the customer, and they are not included in the value of the order because the costs depend on consumers' bank.
Available bank accounts for a specific currency:
PLN - PL 47 1140 2017 0000 4802 1307 4140
EUR - PL 13 1140 2017 0000 4212 0086 2227
USD - PL 56 1140 2017 0000 4812 0088 9774
GBP - PL 81 1140 2017 0000 4312 0128 2516
SWIFT - BREXPLPWMUL
Cash on delivery

Cash on delivery is available only on the territory of Poland in PLN currency. Please, remember to have the exact amount to hand before the courier's arrival. The courier is not obliged to give you change and credit card payment won't be possible.